INTRODUCTION
Building Santee-Cooper: Photographs from
the Scrapbook of Harry T. Poe, Jr., 1939
Introduction About Harry T. Poe Jr. Santee-Cooper Project Poe Family Papers Technical Information
Scrapbook Ordering Information Special Collections Home Site Map
INTRODUCTION
This online presentation reproduces the one hundred and eighty-eight photographs and two transmittal slips in the scrapbook compiled by Harry T. Poe, Senior Engineer for the Santee-Cooper Navigation and Hydro-Electric Project, as well as six related photographs from a "general information" file on the Project kept by Poe. All photographs are from Mss 242, the Poe Family Papers.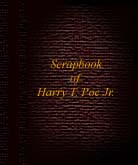 The photographs document the early construction of the Pinopolis and Santee dams and reservoirs from April to December 1939. They include views of the 19th century Santee Canal; of portions of the dam and reservoir sites before construction; and of construction problems encountered during this period. There are also photographs of individuals involved in the Project, various support buildings (such as the worker�s barracks), and some of the construction machinery used.
We would like to thank Santee Cooper� for providing us with the scanned images from the scrapbook and the funding to create this presentation. We would also like to thank Sajay Sadasivan for all of his hard work in creating these web pages.
Introduction About Harry T. Poe Jr. Santee-Cooper Project Poe Family Papers Technical Information
Scrapbook Ordering Information Special Collections Home Site Map