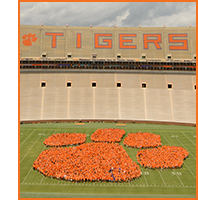 Greetings!
On behalf of the office of New Student and Family Programs we would like to say Welcome (or welcome back) to the Clemson Family! It is always amazing how fast those summer months pass us by. In a few short days the campus went from very still, to people buzzing around everywhere trying to find their way to classes and catching up with new or old friends.

The beginning of the year is full of a variety of emotions for students (and their families) as they are either starting college for the first time or getting back into the rhythm of college. We would like to offer you some insight into some of the common things we see in the first few weeks of school, so you can be both prepared on the home front as well as encourage your student in areas that they may need a little extra nudge.
Making Friends — Talk to your students about meeting people. Have they met anyone in their classes or residence halls/apartments? Have they checked out any events or clubs/organizations? When we talk with students, we find that is it extremely common for students to be nervous starting a semester. It will be beneficial to help them to realize that they are not alone. Be careful not to talk about college being the "best four years of your life," as it may not begin that way for some students, which could lead them to feel like a disappointment or like they are doing something wrong. Become familiar with the University calendar to see upcoming events that may appeal to them and encourage them to attend!


Getting into a Rhythm — The change of schedule, either from high school to college or into a new semester at college, is always a big challenge to get into the swing of things. The freedom can be exciting, but it can also be a bit overwhelming, trying to figure out how to spend your time. Having extra time to get things done can be your worst enemy, as it is easy to put things off. Ask your student about their schedule. If they are a new student, they may not be used to a syllabus. Help them to think of productive planning. Have them organize themselves by making a calendar with all of their deadlines in it, so they aren't caught off guard when they have a week with multiple exams or projects — which is likely to happen! If they plan their calendars with due dates and study time, it will be extremely helpful to stay organized from the start.


Communication — During the first few weeks of school you may see that your student is calling/texting you more frequently as they are getting acquainted to the new semester. Please be mindful that this may change as the weeks go and they start to build a network here at Clemson. However, it is still nice to hear from family. A handwritten letter is something so uncommon that it is extra special to a student. Seeing the writing of your family will provide some nostalgia of home and demonstrate that you are thinking about your student while they are away. Sending a text to see if it is a good time to call may be very appreciated as they may be in class or with a group of friends and it isn't a good time.
Congratulations families! You have done it. Your student is at college (at a top 20 public institution) and in classes! We hope that these are helpful to you as you figure things out from home and how you can best support your student from away. Know that Family Weekend is around the corner and this will be an exciting time for your student to get to show you around their home away from home. We look forward to working with you throughout the year, and do not hesitate reaching out to our office if you have any questions along the way. We are here to help!

Sincerely,

Paige Kegley
Associate Director of New Student and Family Programs
cufamilies@clemson.edu

Last Week to Register for Family Weekend!
Your house is probably feeling a bit quiet since your student moved into Clemson. Not to fret, Family Weekend will be here before you know it! At Family Weekend you will get to go to exciting events, meet your student's professors, enjoy a football weekend, learn and experience some of Clemson's traditions and even taste some of the famous Clemson Blue Cheese. Last day to register for the weekend will be Monday, Sept. 7, 2015.

Register Now »

Does Your Student Love the Outdoors?
A new school year means new adventures! This year Clemson Outdoor Recreation and Education (CORE) will offer a variety of local explorations as well as a few destination trips. Don't miss your chance to register for our Winter Break Ski and Snowboard trip to Steamboat Springs, Colo.

Register for a Trip Today! »
Great Expectations: Family Podcast
The student-parent relationship is complex, dynamic and sometimes difficult. While going to college brings along a great deal of goals, ambitions and dreams, it also brings along struggle, negotiations and sometimes an undefined sense of expectations. Our "Great Expectations" episode attempts to take a closer look at the ways in which the culture of expectations impact college students, student and parent relationships and how students view themselves. Nonetheless, cookies tend to be a theme.

Commuter Bike Rental Program
Is your student considering options for getting around campus and the community? Be sure to tell them about CORE's commuter bike rental program. For only $30 per semester or $50 per year, students will be provided a bike, helmet and lock. Each bike includes one free tune up and flat tire repair. For the most up-to-date information on the bike rental program and everything Campus Recreation has to offer, check out our "What's Happening Now" page.
Is Your Student Interested in Studying Abroad?
There will be a study abroad fair on September, 23 from 10 a.m.–3 p.m. This will be an opportunity for students to learn more about the various study abroad programs and providers that are available. There will also be a chance for you as a family to learn more about this opportunity at a specific educational session during Family Weekend. Check out the Study Abroad webpage for more information about trips and upcoming events!
School of Nursing White Coat Ceremony
Is your student a part of the School of Nursing? The School of Nursing White Coat Ceremony for first-year students will be held on Friday, Sept. 11 at 5 p.m. at Tillman Auditorium. Relatives and friends are also invited to attend. We hope to see you there!

Herb Coughlan Memorial Parent/Family of the Year Nomination
The Clemson Family is a very special experience here and we like to honor a parent or family that has demonstrated dynamic leadership and service to Clemson University throughout their students' time here in the 2014–2015 academic year. All nominations must be received by Thursday, Sept. 3; the award will be presented at the football game on Family Weekend. Nominate a parent or family today!
Student Financial Aid
Please encourage your students who are interested in experiences such as federal work study to visit our site to see if you are eligible and what are the open options. If your student is interested in studying abroad, be sure to request an appointment with our office.

Does Your Student Like Playing Sports?
Clemson offers a wide variety of intramural sports each semester. The upcoming registrations include indoor soccer, flag football, wiffleball and kickball! There will also be opportunities for becoming an official. Register for intramural sports today!
Student Health and Safety
Student safety and well-being are a top priority at Clemson. Alcohol and other forms of drug abuse are well-recognized threats to the health, safety and academic success of college students everywhere. We encourage students to participate in tailgating and other social activities in a safe and responsible manner. Please encourage your student to seek out opportunities to be educated about safety as it relates to alcohol and other drugs. Visit the Healthy Campus website for health and wellness tips, articles and more!

Staying Fit from the Start
Getting some sort of workout in while being away at college is a great way to relieve stress, feel confident and stay in shape while being at Clemson. Whether your student is normally very active in fitness or a beginner interested in the opportunities of staying in shape while being at Clemson, there is a place for them. Check out the group fitness schedule and register for classes today!
QUESTIONS, COMMENTS or CONCERNS?
Have things you would like to see in future issues? Please contact the New Student and Family Programs office at 864-656-0515 or by email at cufamilies@clemson.edu.

CALLING ALL CLEMSON PARENT ALUMNI!
We are looking to feature alumni in future Student Affairs publications. If you have a story you'd like to share, please email sapub@clemson.edu.