Clemson Family,

The fall is an extra special time of year at Clemson. The mountains are colorful with changing leaves. Our campus welcomes home many of our alumni to catch football games or celebrate during Homecoming. However, no one mentions this time of year tends to be the prime season for when roommate issues arise.

Roommate conflicts are attributed to a variety of factors, but it is important to keep in mind they are completely normal. Having conflict with a roommate is inevitable, but how your student handles the situation is key! There is an article written by the organization, College Parents of America, that provides some great guidance on "Helping Your College Student Reduce Roommate Conflict." It is difficult to hear your student frustrated by situations, but guiding them in a positive way is key to helping them manage difficult situations as they arise.

There are many ways that your student can make Clemson University their second home. In the spirit of the season of Homecoming, hear how current students have found their home away from home and how it is a family that will be there forever.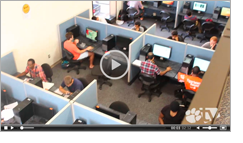 Tiger Cub 411 — Creating Your Home at Clemson University



View the Video »



As always, we are here to help! If you have any questions along the way, feel free to email us at cufamilies@clemson.edu or call the office of New Student and Family Programs at 864-656-0515.

Best,

Paige Kegley
Associate Director of New Student and Family Programs

October — Diversity and Inclusive Excellence Month
Clemson continues to celebrate the diverse cultures and people represented by the University. It has been an excellent month with many great events. Check out the schedule of events! There are many event videos on Clemson T.V. and we encourage you to check them out to take a sneak peak at some of the highlights of the month so far.

Spring UPIC Registration Begins Soon
Clemson has expanded its on-campus internship and co-op program to offer more students the opportunity to work closely with a member or members of Clemson's faculty or administration. Participating students will be given significant work that will help them prepare for their future careers. These Spring UPIC opportunities will begin showing in ClemsonJobLink on Monday, November 2.

Is your Student wavering on whether their major is a right fit for them or not? Registration for spring and summer terms begins and the Center for Career and Professional Development welcomes students to discuss changing majors. Find us on all major social media at ClemsonCCPD and stay connected!
Supporting Your Student Through Homesickness
Is your student experiencing homesickness or seem disengaged from academics and campus? Around this time of the academic semester, some students begin to feel overwhelmed due to midterms approaching or finding it difficult to make friends and are trying to find their place on campus. Check out our blog post titled, "I just want to go home: Coping with Homesickness," to learn about suggestions and resources to better support your student.

Changes to our Dates in the Holiday Airport Shuttle
There have been some changes in regard to dates to register for the schedule the Holiday Airport Shuttle. Please check the web for the new dates to schedule your travel accordingly.
Take a Piece of Clemson to the Thanksgiving Table
Clemson Blue Cheese has been a southern tradition for 74 years. It is made the old fashion way and is entirely produced and packaged right here on campus! Order yours online or by phone at 1-800-599-0181. It could also be a great gift for the holidays.
Keeping an Eye on your Students' Mental Health
Be alert to emotional changes in your student that may reflect signs of depression or anxiety. Many things could cause these changes. They may lead to increased alcohol and/or drug use. Learn more about mental health and how to talk with your student about it.

Student Graduating in May
Is your student scheduled to graduate in May? If so, you should start becoming familiar with the schedule and begin planning travel to Clemson, as it is a busy weekend. It is never too early to think about reserving hotel rooms and making special dinner reservations for the special occasion.
Clemson Builds Solar-powered, Cost Effective, Energy-efficient Home
Clemson University's Solar Decathlon project (Indigo Pine) brings together a team of students and faculty from across the university to collaborate on the design, construction and promotion of a low-environmental-impact, net-zero, solar house that is cost-effective in today's market and comfortable under South Carolina's climate. Check out the innovative work of the team!

Movember Men's Health Initiatives
Move over November and make way for Movember! Clemson University has joined the nationally recognized Movember Foundation in their efforts to create conversations surrounding men's health, with particular emphasis on mental and physical health as well as testicular and prostate cancer. Join the movement today by signing up for the Moustache Dash 5k, or encourage your student to get involved in the movement. For up-to-date information on more upcoming Movember events, follow Campus Recreation's Facebook page.
Flu Season is Approaching
The flu vaccine is now being offered at Redfern Health Center – no appointment necessary. Encourage your student to get the flu shot now as it takes a couple of weeks to build up immunity. Visit the Redfern Health Center website to learn more about the flu and see the flu shot hours.

New Student Academic Progress Program Reports Are Out
If your student was new to Clemson this fall (freshmen and transfer), they have received an email mid-October with their New Student Academic Progress Program (NSAPP) report. Encourage your students who are performing at a below-average rating in their classes to get in contact with their academic advisor.
Student Veterans Association Hosts Tigers for the Troops Golf Tournament
The Clemson Student Veterans Association is holding its annual Tigers for the Troops Golf Tournament on Friday, Nov. 20 in conjunction with the Military Appreciation game against Wake Forest. Proceeds are supporting a scholarship for a student veteran enrolled at Clemson University. This event and scholarship support is 100 percent student driven. There are opportunities to play as an individual player, a team, or if you would like to support just through a sponsorship or donation, any involvement is appreciated. Check here for more information, to commit a team or to sponsor one!
QUESTIONS, COMMENTS or CONCERNS?
Have things you would like to see in future issues? Please contact the New Student and Family Programs office at 864-656-0515 or by email at cufamilies@clemson.edu.

CALLING ALL CLEMSON PARENT ALUMNI!
We are looking to feature alumni in future Student Affairs publications. If you have a story you'd like to share, please email sapub@clemson.edu.