Clemson Family,

The leaves are gone and the days in the semester are dwindling down quickly. Winter break will be here before we know it. Thinking about the break, there are a few quick tips that we have found are helpful to think about during this particular time in the year.

Remember to set the appointments for your student's local doctor, dentist, etc., for their winter break! December/January appointments tend to go quickly with students going home for the holiday season.

Check in with your student with open-ended questions while they are home: This will be a great time to gauge how your student is doing this semester. Check in on finances, academics, relationships and see if your student's expectations for the semester are being met, and if not, what they need to do to change things.

If you have a freshman and this will be their first time home for a long break, this is for you! It is quite common that a student's first long trip home can be exciting, yet challenging. Your student has found a new independence while being away with no curfew, eating when and what they want, following their own rules, etc. Be sure to talk through the expectations you have for them while being back before they get there so you are all on the same page and avoid any issues.

In the spirit of the Thanksgiving season, we would like to take a moment to THANK YOU for being a special part of the Clemson Family and for partnering with us in your student's collegiate journey. We hope you enjoy our special "Giving Thanks" edition of the Tiger Cub 411.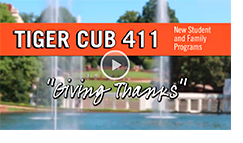 Tiger Cub 411 — Giving Thanks
View the Video »




All the best,
Paige Kegley
Associate Director of New Student and Family Programs

Spring Fraternity Recruitment
Do you have a son interested in going through fraternity recruitment? The IFC spring rush dates are set for January 23–28. Registration for recruitment for the spring is open from Nov. 2 and will close on Jan. 23. Learn more about the process today!
Have a Student Graduating in December — News for You!
If your student is graduating in December, remind them to look out for a survey link to be emailed to them. This survey will help Clemson gather important information on our graduating students, like their first destination after college and salary offers. As always, follow Clemson Career and Professional Development on all social media channels at Clemson CCPD to stay connected with important news!

Final Exams can be stressful! — Support from Home
Encourage your student to prepare well and avoid the temptation of misusing prescription drugs with the impression that it will help them concentrate. Remind your student to get enough sleep, exercise, eat well and prioritize tasks. To learn more, visit our Web for more helpful tips and resources related to stress!
Make Appointments While Your Student's Home for Winter Break
This is a great time of year to make appointments with your family doctors, dentists, etc., while your student is home for the winter break. Appointments go quickly with college students coming home!

Vice President Joe Biden Visit to Clemson — It's On Us Campaign
Clemson had a unique opportunity to host Vice President Joe Biden on campus to speak in support of the "It's On Us" campaign. This campaign is a national effort to bring awareness to the problem of sexual assault on college campuses. Take a sneak peak at his discussion!
Student Living off campus? — Plan for the Upcoming Break
Begin having conversations with your student about the importance of winterizing their homes for the break. Small tips like reminding them to unplug all appliances, setting the temperature to a setting to avoid freezing pipes, cleaning out the refrigerator and removing all trash will all go a long way to avoid problems for their return.

Setting up housing for the 2016–2017 Academic Year
It is that time again! Start to think through housing options for your student for the upcoming year to decide on whether your student decides to live on or off campus. While considering your options check our on-campus housing site as well as our off-campus student services Web pages.
Travel Safety Tips for the Break
No matter the method your student is traveling, be sure they do so safely. Encourage your student to familiarize themselves with the travel safety tips put out by our Clemson University Police Department.

Paying the Bill for Spring 2016
Spring 2016 bills are available for viewing and the deadline for payment is Dec. 31. Check out our Student Financial Services site for any questions regarding tuition, payment plans, due dates or any other financial aid questions.
Grades will be out shortly! Understanding FERPA
Winter break will be here before we know it, which means the semester is over! This also means that grades will soon be released. As a family, not having access to grades can be a difficult concept to grasp. The Family Educational Rights and Privacy Act (FERPA) protects a student's educational records. Check out a Clemson resource to better understand this law and how it works.

Flu Vaccines held on Wednesdays
Flu Vaccine Clinics are held on Wednesdays at Redfern Health Center; no appointment necessary. Encourage your student to get the flu shot now as it takes about two weeks to build up immunity after vaccination. If your student gets sick, encourage them to call for an appointment at Redfern. For after-hours help, students can call the nurse line: 864-656-2233 (press option two).
Spring Family Reunion
The Spring Family Reunion date is set! Mark your calendar for April 1-2 for a relaxing, family friendly, fun-in-the-sun weekend. There will be athletic events, social opportunities, great food and entertainment. Registration will begin in January, so keep an eye on your email for more information to come.
QUESTIONS, COMMENTS or CONCERNS?
Have things you would like to see in future issues? Please contact the New Student and Family Programs office at 864-656-0515 or by email at cufamilies@clemson.edu.

CALLING ALL CLEMSON PARENT ALUMNI!
We are looking to feature alumni in future Student Affairs publications. If you have a story you'd like to share, please email sapub@clemson.edu.