SEPTEMBER 2015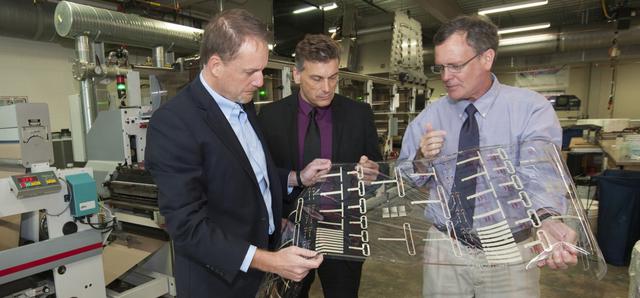 Imagine bandages that detect infections, flexible paper light bulbs that screw into a light socket or food containers that notify you of an allergen inside. Now imagine all of this technology is created on a printing press and that Clemson is on the cusp of helping bring it to mainstream America.
Being an entrepreneur as a full-time college student is no easy endeavor. Devin Ashton Ostermann does it all – creative design, production, sales, distribution, marketing and customer service. So, nurturing a start-up without losing sight of what she came to Clemson for, takes focus, dedication and perseverance.
For six years, Clemson sociology professor Brenda Vander Mey has been proactively leading a sustainability Creative Inquiry class to the eastern Caribbean island of Dominica. Today, Vander Mey, her students and some associates are leading a different mission for the 70,000 inhabitants of the archipelago – one of relief.
Clemson MBA candidate in Entrepreneurship and Innovation, Matt Brown, on his cycling safety LED device: "What we're trying to do is save cyclists' lives and become the next game changer for cycling safety. Entrepreneurship is about identifying a problem that more than one person is having and finding a solution to that problem."

A three-year, 70-million mile space voyage takes some serious planning. That's why the world's largest space agency has turned to Clemson psychology professors Tom Britt and Marissa Shuffler in preparing for the first-ever manned mission to Mars in 2030.
"This distinguished group was chosen based on their dedication to our place, their facility for creating thirst in students, ingenuity and ability to communicate, capacity to uncover new and interesting scientific and moral truths, and sense of purpose to be part of something bigger than themselves," said Dean Bobby McCormick.
Beta Gamma Sigma, an international honor society that recognizes academic excellence in business studies, has awarded Clemson's chapter honors recognition for its commitment to academic excellence and faculty officers' efforts at enhancing the organization's local status.
It's difficult to fault millennials for being skittish about investing in their futures. After all, retirement isn't top of mind for most college students, and many of them came of age during one of the most horrifying financial crises in U.S. history. But finance senior lecturer and chartered financial analyst Kerri McMillan says her students aren't your average millennials.
Hewlett-Packard (HP) has donated an HP Indigo 5000 Digital Press valued at more than $500,000 to Clemson's graphic communications program as part of a new academic collaboration to support the next generation of talent in the digital printing field.
David Torris, regional president, and Bill Rogers, chairman and CEO at SunTrust Banks, Inc., invite you to join them for "Purpose Driven Leadership" on Thursday, Sept. 24 at Greenville ONE. Cocktails will be served at 5:30 p.m. and the presentation will begin at 6:15 p.m.

"Sojourns, Startups and Serendipity: A Few Things I've Learned Along The Way" will be presented by Matt Dunbar, managing director of the Upstate Carolina Angel Network, and a co-founder of the South Carolina Angel Network and Palmetto Angel Fund at Strom Thurmond Institute on Tuesday, Sept. 29 at 6 p.m.

First Friday Leadership Series presents Carl Schlachte, chairman, president and CEO of Ventiva. Join Clemson MBA Programs, The Arthur M. Spiro Institute for Entrepreneurial Leadership, and The Upstate Business Journal at Greenville ONE on Oct. 2 at 5:15 p.m. followed by a networking reception.

Join our tailgate in Sirrine Hall courtyard on Oct. 3, four hours before Clemson vs Notre Dame kick-off. Talk with members of Clemson IDEAS, the Spiro Board, and students interested in entrepreneurship. Great networking opportunity. Free food and drinks.
Dr. Vernon Smith will present "Information from Experiments that Changed False Beliefs: Two Cases and their Economic Implications." The Big Ideas About Information Lecture, brought to you by the Information Economy Project, will be held on Oct. 5 at 4 p.m. in 100 Brackett Hall.

This dialogue and panel discussion with four distinguished speakers is designed to give the audience a better understanding of U.S.-China relations as well as the effect of Chinese investment on our own communities, at the Hyatt Regency in Greenville on Oct. 5 at 6 p.m. Hors d'oeuvres will be served and pre-registration is required.

Renowned Harvard professor of business and one of the founders of financial economics, Michael Jensen introduces you to the course "Being a Leader." Jensen will be joined by Jeri Echeverria, Exec. Vice Chancellor and Chief Academic Officer, California State University System (ret.); and CBBS Dean Bobby McCormick at Greenville ONE on Oct. 7 at 5:30 p.m.

All College of Business and Behavioral Science alumni bring your family for great food, fellowship and pre-game excitement at our Ninth Annual Homecoming Tailgate hosted by the CBBS Alumni Loyalty Board and the CBBS Tiger Ties Mentorship Program, on Oct. 17 in Sirrine Hall courtyard, three hours before Clemson vs Boston College kick-off.