Greetings!

On behalf of the Office of Student Transitions and Family Programs and the entire Clemson community, we would like to send a warm welcome to you as we approach the start of the academic year. To new families, we hope you enjoyed your summer Orientation session and learned about the many facets of Clemson. We loved getting to meet each of you. To those returning, we look forward to seeing you back on campus.

If your student is new to Clemson, ask them if they have Clemson Events app. Once it is downloaded, search for the 2018 Freshman or Transfer Orientation and Transition Guide. These guides have an outline of all the scheduled events for Kick-Off Clemson and helpful information for making a smooth transition into the Clemson community. All events with required attendance will be marked accordingly.

Encourage your student to connect with their peers by going to the many social events offered as the semester approaches. Tiger Prowl, a club and organization fair with over 400 organizations, Grill & Greet, a fair showcasing many of the multicultural organizations, and Welcome to the Palmetto state — a program specifically for out-of-state students — are a few of the great options for your student to find their place.

As the summer comes to a close and the anticipation builds for a new academic year, we want to provide your family with the information necessary to get the year started on the right foot. Reviewing the following checklist before the start of the year will help ease your student's transition into life at Clemson.

As always, don't hesitate to reach out if you have any questions.


Paying the Bill

Mark your calendar, because the bill is due no later than August 18 for students who are registered for the 2018 fall semester. Both your student and anyone designated as an authorized user will receive an email with detailed information about payment options. If you have any questions moving forward around billing, be sure to check out the Student Financial Services website.
Move-In Planning

As you prepare for Move-In Day, don't forget to review the information found on the housing webpage about moving your student into their new Clemson home. We want to make your drop-off experience as smooth as possible by providing you with the most up-to-date packing tips, directions and much more. If your student is living off-campus, make sure they are aware of the helpful resources provided by the Office of Advocacy and Success.
Part-Time Job Fair

Is your student looking for part-time employment for the upcoming year? Don't let them miss out on the Part-time Job Fair that will take place on Aug. 29 from 2-5 p.m. in Hendrix Student Center.
Jumpstart Workshops

If your student is new to Clemson, let them know that attending a Jumpstart workshop can provide them with skills on how to make a successful transition to college-level course work.
Family Weekend

Are you already thinking of missing your student? Do not fret because Family Weekend is right around the corner. The weekend of September 14-16 will be full of fun academic and social opportunities for your student to show off all they have experienced during their first month at Clemson. If you haven't registered yet, be sure to register today.
Laptop Workshops

All laptops need to be set up for the Clemson environment whether your student just purchased a new laptop from Clemson or if they are bringing a laptop from home. Students can either go onto our CCIT website to see the step-by-step instructions on how to set up their laptop, or they can attend a Laptop Workshop once they arrive on campus.
New Student Ticket Policy

We have received a few questions regarding the new student ticket policy for football games. If your student has any questions, they can review the student policy on the athletics website to familiarize themselves with the changes.
Immunization Forms

If your student has not yet fulfilled their required immunizations, be sure that they check on the Student Health Services website for the necessary paperwork.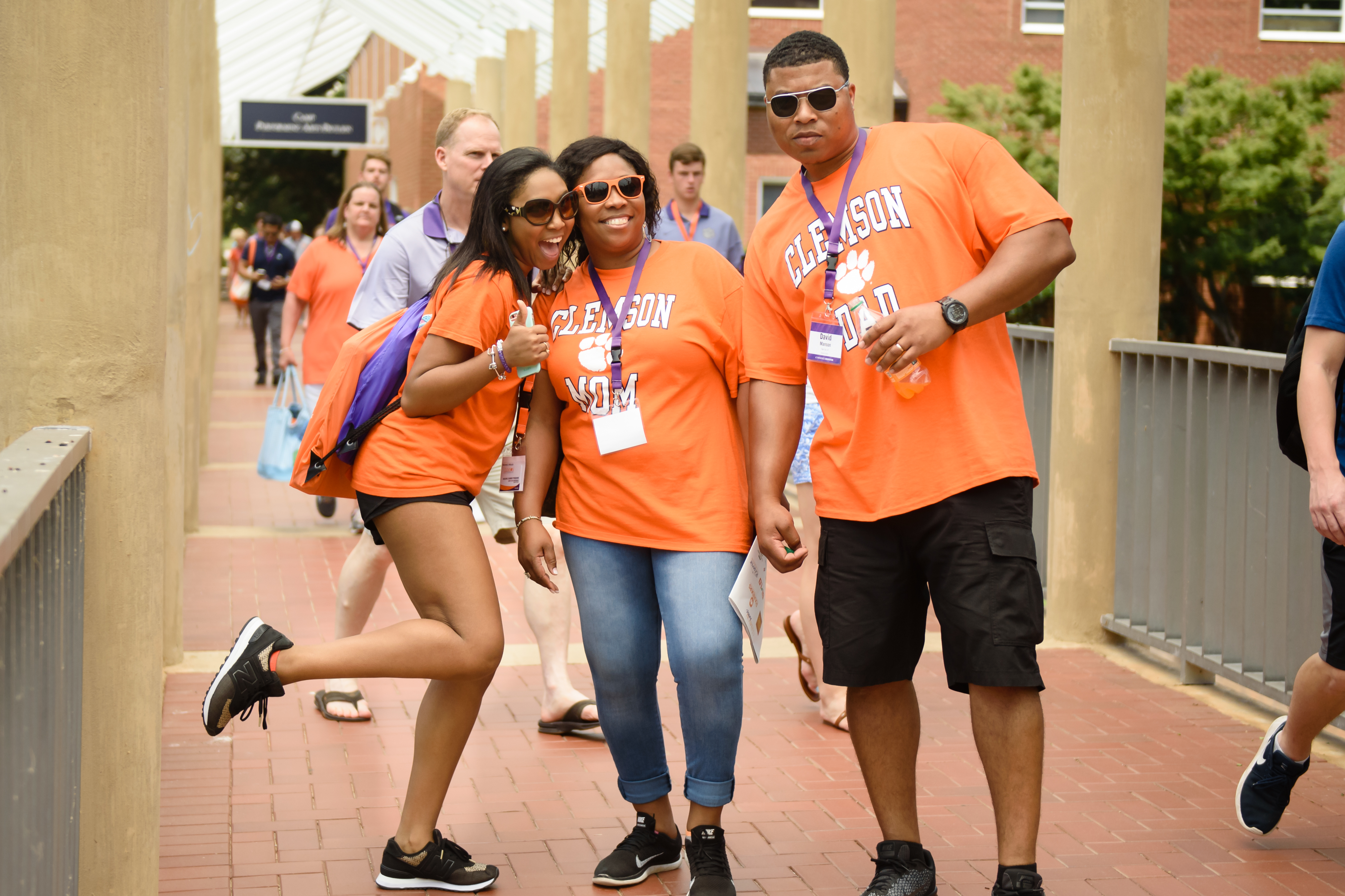 A new Clemson family arrives on campus